Location
2-1 Hiramatsu-cho Higashiohmi-shi Shiga 527-0134 Japan [Google map]
Tel: +81-749-45-5000 Fax: +81-749-45-5001 Email: subaru@gammaknife-c.jp
Access
For international travelers, arriving at Nagoya airport (Chubu International airport) and taking train to Maibara station provides the most convenient access.
Hotel Recommendations
We can help with your travel plans.
Maibara
Toyoko Inn Maibara-eki Shinkansen Nishi-guchi (West Gate)
Hikone
Comfort Hotel Hikone
Koto
Crefeel Koto
Transportation
Pick-up is available at the East Gate of Maibara station (see the photos). Please contact Subaru International Services in advance.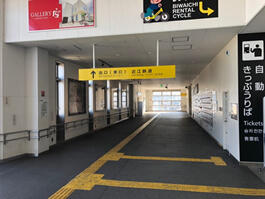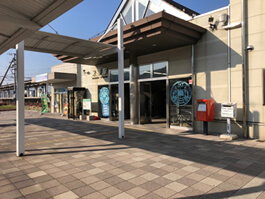 Admission Procedure
Day of Admission
Please come to the reception desk. Our staff will give you a guide for the day.
What to Bring
Documents
For patients without Japanese health insurance, please bring your passport.
Your patient ID card will be issued and kept with you until discharge.
Please provide current medications and medical records, if any.
If you need medical certificates or any other official documents, please ask Subaru International Services.
Essential Items
Please bring daily necessities with you, such as underwear, sleepwear, robes, towels, slippers, toothbrushes, facial tissues, and eating utensils (chopsticks, fork, spoon, etc.). We have rental patient gowns.
During Your Hospital Stay
Language
You can communicate in English. Although not all staff are fluent, simple communication is possible. "Google Translate" may help communication with ward staff. Our staff can also help you using "WhatsApp" via smartphones during your stay.
Inpatient Rooms
We normally reserve a private room for a foreign patient. However, when occupied, please be notified that you might be asked to move to a shared room temporarily.
Meal Services
The hours of meal services are Breakfast 8:00 a.m. / Lunch 12:00 noon / Dinner 6:00 p.m.
All menus are prepared under the direction of your doctor according to your condition.
Please inform ward staff in advance if there is any food you need to avoid.
Identification Wristbands
To avoid medical errors, patients are requested to wear identification wristbands during hospital stay.
Electric Devices
Ask your ward staff if you can use electric devices. The plug is type A, AC100V.
A Refrigerator is available in a private room.
Mobile Phones / TV
Free Wi-fi is available in private rooms. Please refrain from talking on the phone in shared rooms. However, we recommend that you have Wi-fi connection, such as pocket Wi-fi, before arriving to ensure communication.
You can watch TV with a prepaid card, which is sold at vending machine on each floor.
Shower
You can take a shower per your doctor's permission. It will usually be allowed on the day after surgery. Please ask your nurse the available date and time for shower.
Laundry
Laundry facilities are available on the 3rd floor. Please bring your own laundry detergent. Laundry can be used with TV card.
Purchasing Daily Necessities
You can purchase daily necessities and snacks at the store on the ground floor.
Attendant
Your family member can stay in the same patient room. Please ask for an extra bed for the family in advance.
The closest hotel is Crefeel Koto (https://crefeel.co.jp). Transportation from the hotel is available on request.
Outing / Sleepover
Ask your doctor's permission regarding outing and sleepovers.
Infection Prevention
To prevent hospital-acquired infections, antibody tests will be done for Syphilis, Hepatitis B, C and HIV. We appreciate your understanding and corporation.
Theft Prevention
Please do not bring valuables and large amounts of cash. We cannot guarantee their safety or compensate the stolen items. Ask the ward staff to lock the door when you leave.
Discharge Procedure
Checking out
Please keep your patient ID card with you.
Follow your doctor's instructions after your discharge.
Payment
We accept cash/transfer/credit payment.
For credit card payment, settlement currency is JPY.
The total amount in JPY will be charged at the rate on the day of surgery.